What is Google Workspace Frontline? Get to know Google's Latest Workspace Plan For Mobile Employees
Google Workspaces's latest plan, "Google Workspace Frontline," was released on April 1, 2023. Now in 2023, it has been divided into two separate plans, "Frontline Starter" and "Frontline Standard"
Google Workspace Frontline has been created to enable mobile employees to conduct collaborative and communicative tasks wherever they are. According to statistics, almost 80% of our global workforce has adopted a "deskless" working style. In response to this trend, our company TS Cloud, as an authorized Google premier partner, has decided to begin supporting the sale of Frontline to cater to these individuals and potential digital nomads too.
In this article, we will dive into the features of Frontline, its tools, pricing, differences from the traditional Business and Enterprise plans, and consideration points before implementing it.
Summary of Google Workspace Frontline
Google Workspace Frontline can only be used by verified frontline workers i.e., workers who do not work desk jobs
Cheaper than Google Workspace Business Starter
Required to be used under a Business or Enterprise level parent organization account
Basic tools are available Gmail, Chat, Meet, Drive, Docs, Sheet, Slides, and Calendar. However, some features are disabled.
Google Drive storage is limited to 5GB.
The difference between "Frontline Starter" and "Frontline Standard" is solely their strength of security.
Mixing with other editions of Google Workspace is required. If you are confused or unsure about which to mix with, contact us at TS Cloud to inquire about the most suitable proposal.
Features of Google Workspace Frontline
Google Workspace Challenges So Far
Up until now, Google Workspace has only had plans designed for office workers, such as Google Workspace Business and Enterprise. There were no specific plans for frontline employees who spend less time at desks, until Now.
For employees whose main working locations are in the field, trying to implement Google Workspace meant using the Business (or Enterprise) plan. This resulted in the inclusion of features that were more necessary, making the subscription cost higher than needed.
To overcome this issue, you guessed it, is the newly released Google Workspace Frontline Starter and Standard Plans. With it, you can now achieve smooth communication between desk workers and field employees at a lower cost.
▼Check out ideal Google Workspace plans for office workers
Overview of Google Workspace Frontline
♦ Why Google Workspace Frontline
Google Workspace Frontline strongly prioritizes the security of employees' devices therefore to keep company information safe, secure communication will be enabled. Additionally, for the lowest price among all Google Workspace plans, Frontline comes with key communication and collaboration applications such as Gmail, Chat, Meet, Documents, and Drive. Furthermore, Google Workspace Frontline incorporates IT security measures to safeguard corporate data, such as advanced endpoint management. Security and management measures will vary between "Frontline Starter" and "Frontline Standard"
♦ Expected User Behaviour
Large amount of field or out-of-office work
Regular traveller for work
Primary devices are mobile
Regular device sharing among colleagues
♦ Suitable Occupations for Google Workspace Frontline
Manufacturing Industry
Restaurant, Hotel, and Retail Industry
Agriculture, Fishing and Forestry Industry
Construction Industry
Farming Industry
Customer Service Center
Transportation Operators
♦ Business or Enterprise is Necessary to Enable Frontline
Until the release of Google Workspace Frontline, it was not possible to select multiple plans within a single domain (e.g., coexisting Business Standard and Business Plus plans). However, now with the introduction of Frontline, your domain can support the coexistence of Frontline and other Google Workspace plans such as Business or Enterprise.
Comparison Chart Between Frontline and Business Starter
Frontline Starter
Frontline Standard
Business Starter
Annual Contract (Monthly Breakdown)
RM266 per user
RM650 per user
RM320 per user
Storage Size
5GB/Per User
5GB/Per User
30GB/Per User
Creating A Document
(Shared Drive)

X

X

X**

Creating A Document
(My Drive)

◯

◯

◯

User Limitation
Unlimited
Unlimited
300 Users
Endpoint Management
Altitude
Altitude
Standard
Advanced Security and Management Features

X

◯

X

99.9% Uptime Guarantee

◯

◯

◯

24/7 Customer Support

◯

◯

◯

2 Factor Authentication Process

◯

◯

◯

Google Meet Participation Limit
100 Participants
100 Participants
100 Participants
*Purchasing an annual contract with TS Cloud requires a minimum of 5 or more accounts
**Shared Drive features will be available to Business Starter customers in late 2023
Tools in Google Workspace Frontline
Due to its focus on frontline employees, the tools available in Frontline are almost identical to Business Started. However, there are some functional limitations. Be sure to check out the differences and limitations before applying.
▼Primary tools available in Frontline
Gmail: Send and receive emails using a domain address e.g., @[company anime].com
Meet: Join video conferences from anywhere and on any device
Google Calendar: Easily schedule meetings and events with colleagues by sharing your calendar and viewing theirs
Docs, Sheets, and Slides: View and edit various files on any device
Google Drive: Gain access to 5GB of cloud storage per user
Chat: Engage in real-time group or private communication
Let's take a closer look at each tool's features and availability
① Gmail
Availability
Access to unique domain email address

◯

Access to shared departmental email address
e.g., [department name@company name].com

◯

Organization mailing list

◯

User-managed mailing list

◯

Spam filter and anti-virus system

◯

Gmail Ad Blocker

◯

Customizable filter functions and content policies

◯
② Google Meet
Easily conduct or take part in video conferences from any device
For more information on Google Meet:What is Google Meet for Workspace and how is it difference from the free version
| | Availability |
| --- | --- |
| Up to 100 participant web conference | ◯ |
| External participation | ◯ |
| Presentation and screen sharing | ◯ |
| Android and iOS compatible | ◯ |
③Google Calendar
Utilise Google Workspace to efficiently plan meetings and events around team schedules with shared calendar
Availability
Team Calendar settings

◯

Resource reservation platform e.g., meeting rooms and equipment

◯

Google Meet integration to events
(Attach a Meet link to an event)

◯

Microsoft Exchange calendar sync

◯
④ Google Docs, Sheets, and Slides
Google Workspace Frontline is able to create files in My Drive, however cannot in shared files. Files in Shared Drives can be viewed by default and editing can be accessed if permission is granted. The Shared Drive file naturally cannot be owned a Frontline account.
Google Workspace


Frontline

Google Workspace


Business Plus

Google Workspace


Enterprise
File Creation
(My Drive)

◯

◯

◯

File Creation
(Shared Drive)

✕

◯

◯

View files in Shared Drive

◯

◯

◯

Edit files in Shared Drive
Requires Permission

◯

◯
| | Availability |
| --- | --- |
| 5GB cloud storage via Drive | ◯ |
| Drive audit log | ◯ |
| Sharing with non-Google accounts (visitors) | ◯ |
| Sharing external links | ◯ |
⑤Shared Drive
In the organization's shared drive, it is not possible to set access levels higher than "Viewer" or "Commenter," preventing the creation and upload of new files or folders. However, individual editing permissions can be granted for files and folders. It's important to note that creating and uploading files or folders in My Drive is unrestricted.
Learn more about Shared Drive:Google Shared Drive: Introduction, Benefits, and Limitations
⑥ Google Chat
Identical to Google Workspace Business and Enterprise, Google Chat is available for group or individual communication with no restrictions or limitations.
⑦ Google Assistant
Shown in the video below, easily perform various operations using just your voice. Ask Google Assistant for the upcoming events in your calendar or send a message.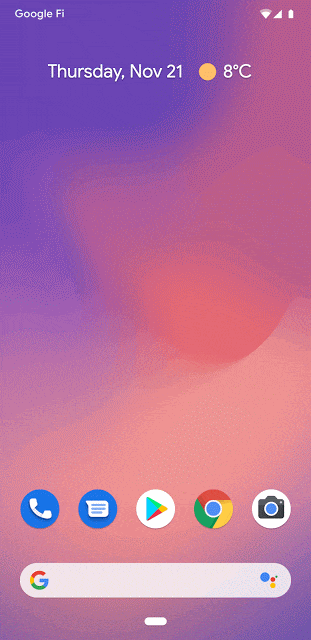 ⑧ Advanced Endpoint Management
Designed for scenarios with frequent use outside the office, "Frontline" allows for a higher level of security compared to "Business Starter." Enhanced security features include mandatory stronger passwords, remote device wipe capabilities, iOS app management, and the use of work profiles on Android.
⑨Drive Audit Log
View user activities in Google Docs, Sheets, Slides, Forms, and Sites.
⑩ Data Protection Analysis Report
Access and view organizational reports in Drive files that contain sensitive data
Frontline Starter vs. Frontline Standard
Frontline has two editions: Frontline Starter and Frontline Standard. The difference between the two plans is in their security and management features. We have summarized these distinctions in the table blow for your reference. If you are seeking a higher level of security, Frontline Standard is highly recommended.
Frontline
Starter
Frontline
Standard
Advanced Endpoint Management
Enhance the control and management of your organization's data. Allow advanced endpoint management to re-enforce stronger passwords and provide various other security capabilities such as remote device wipe, the use of work profiles on Android, and the management of iOS applications.

◯

◯

Drive Log Event Data
See account activities in Google Docs, Sheets, Slides, Forms, and Sites.

◯

◯

Data Protection Insights Report
Access and view organizational reports in Drive files that contain sensitive data

◯

◯

Enterprise Endpoint Management
Management features for company owned devices
・Security settings such as iOS data protection, mobile device certificates, and context-aware access
・Device management, including company-owned inventory of mobile and iOS devices, management rules, integration with BeyondCorp partners, etc.
・Private iOS app management
・Detailed device data, including device log event data and reports on unused company-woend devices

X

◯

Data Loss Prevention(DLP)
Create and apply rules to control how files are shared within and outside your organization

X

◯

Context-aware access
Create detailed access control policies for Google Workspace and SAML applications based on attributes such as user ID, device security measures, IP address, location information, and more.

X

◯

Google Vault
Next-generation solution for e-discovery and data retention

X

◯

Cloud Identity Premium
Gain enterprise level security, application management, and automated device management

X

◯

Google Voice
Available as an add-on subscription for Fontline Starter. A high performance, easy to use cloud private phone network that provides users with phone numbers, auto attendants, and ring groups.

X

◯
Google Workspace Frontline Pricing
The use of Google Workspace Frontline accounts must be used together with Business or Enterprise editions therefore naturally, parent organization accounts must be one of the two. If you are interested in how this combination can bring more value to your implementation of Google Workspace, contact us. As certified Google cloud premier partner, here at TS Cloud, we will be able to provide you with an optimised balance for your Google Workspace plan.
For pricing details, please contact us.
Implementing Google Workspace Frontline
Upgrades are available from Frontline Starter to Frontline Standard, Business, and Enterprise.
We understand that integrating a new plan into your existing one can be confusing, and you may default to choosing Frontline Starter. Do not worry, we are here to tell you that you can upgrade later, so apply with confidence.
Increase Your Account's Features with Add-Ons
Here are two options that can be combined into your Frontline Starter account. These options are recommended to those of you who wish to improve your security and litigation measures.
For more information on Google Vault: Introduction to Google Vault: Benefits, Features and Pricing
| | |
| --- | --- |
| Google Vault | Manage your information and be ready for eDisocovery with Data Retention features |
| Cloud Identity Premium | Enterprise security, application management, and automated device management services |
Applying as an Office Based Employee
Please be aware that if Google determines that an ineligible employee (office employee) has obtained a Google Workspace Frontline account, access to Frontline features may be removed and restricted. If you would like to reconfirm your eligibility for Frontline, do not hesitate to contact us for a free inquiry and consultation.
Google Workspace Frontline Support and Inquiries
Up until this year, Google Workspace has not provided the best plan for on-site employees. But with the release of Frontline, smooth communication between desk workers and on-site employees is now achievable.
If you would like more information about the features of Google Workspace Frontline, or any other Google Workspace plan, please contact our specialized staff for Google Workspace at TS Cloud.
Get started on your free trial!
If you are interested in using
Google Workspace