Google Admin Console
Assist enterprises to centrally manage all Google Workspace services and users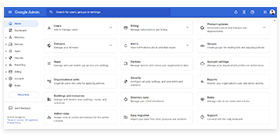 What is the Google Admin console?
A complete introduction to the benefits, features and prices of use
The Google Management Console can help companies centrally control all Google Workspace applications. For any data transfer or personnel change requirements, the administrator can easily perform management operations through a simple and intuitive interface at any time, so that the security of corporate data and users are guaranteed.
Google Admin Console Functions
Google Workspace Admin Account
The Admin Console administrator has permission to add or remove user accounts and add users to specific organizational units or assign administrator roles to users. You can assign different administrator roles to users to perform administrative tasks based on their privileges.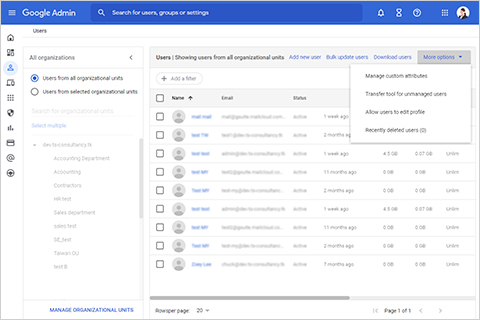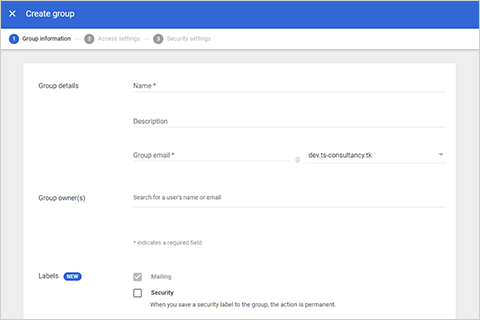 Create Groups
In the Admin Console, you can create groups and generate group emails (general emails) for the team. For example, the sales team can send and receive emails using the group emails. Internally, you can easily make announcements by sending emails to a specific group (department).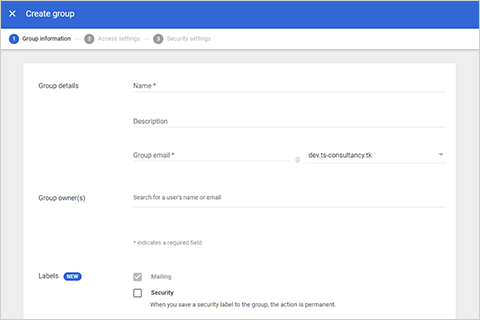 Audit Logs
Google Workspace user usage in the enterprise can be monitored in the admin console, such as each user's account status, email entries, etc., to prevent and remediate potential security risks. Both user and administrator account activity can be monitored and stored.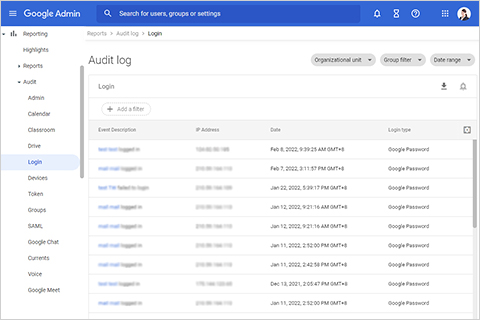 Security
Google Workspace security policy settings can be used to increase internal information security, such as forcing users to perform two-step verification, setting password strength, and so on. "Two-step verification" can prevent accounts from being accessed without authorization, and "Set password strength" can require users to use strong passwords, set password length, or prohibit the use of repeated passwords.
App Management
Manage Google Workspace app settings. Commonly used core features such as setting Gmail's blacklist, whitelist, and forwarding feature when sending and receiving; setting Cloud Drive property transfer to solve internal file transfer issues; setting shared resources in Google Calendar to use The person can make a reservation, and so on.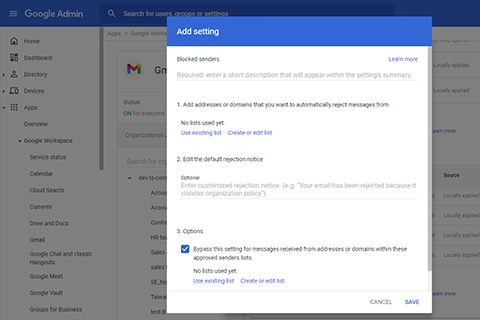 Benefits of Admin Console
Can be managed centrally
All monitoring can be done from a browser window, no additional software or login is required as long as a device with a network connection can perform the operation. And Google Workspace continues to update automatically. Without lengthy and complicated deployment or update processes, you can automatically activate the latest version.
Account security is guaranteed
You can control whether to open certain applications for the user from the time the user logs in to the account. You can also set up DKIM in Gmail to increase email security and prevent emails from being forged. At the same time, measures such as restricting user accounts from signing in with personal mobile devices or blocking sign-in with certain devices are possible.
Cost-effective solution
Google Workspace offers automatic upgrades and enhanced services. When Google officially releases a full set of new features or revisions, customers can use these services directly without manual customization or updates. They do not have to worry about version compatibility issues between users, and there are no additional purchase, update, or maintenance costs.
Admin Console: Difference between Free Version and Paid Version
Free version account does not come with Admin Console
Not only does the account not include admin conolse in the free version, but the ownership is with the individual and not the organization.
Admin Console is provided exclusively for Google Workspace. The account ownership belong to the organization, and can assign multiple users as Google Workspace administrators. Google Workspace Super Admin is the top most powerful administrative role in your entire Google Workspace domain.
Customer support is not provided for free version account
Google does not provide support for users who have a free Google account.
Google Workspace administrators can contact Google Support directly via the Admin Console by phone, chat, or email for free online support for Google Workspace.
Does using Admin Console need to pay extra?
All Google Workspace enterprise accounts already have a management console. System administrators or those who have access to the "Administrator Account" can log in to manage them.
Google Workspace Edition With Admin Console
Advanced features vary by editions.
| | Business Starter | Business Standard | Business Plus | Enterprise Essentials | Enterprise Standard | Enterprise Plus |
| --- | --- | --- | --- | --- | --- | --- |
| Security Investigation Tool | X | X | X | X | V | V |
| Context-Aware Access | X | X | V | V | V | V |
| Drive Audit Log | X | V | V | V | V | V |
| Set Drive users' sharing permissions | X | V | V | V | V | V |
| Attachment Scan (Security Sandbox) | X | X | X | X | X | V |
| Security Dashboard | X | X | X | X | V | V |
Get started on your free trial!
If you are interested in using
Google Workspace
Google Workspace Key Features