Google Calendar
Calendar designed for team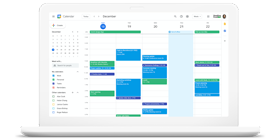 Introduction to Google Calendar: Benefits & Features
Google Calendar is an integrated online calendar that serves as a starting point for businesses. When a calendar event is added, the invitee automatically receives an email notification and can respond if they want to participate. You can also use a specific tool as a calendar resource so those who need to book can check to see if they have been booked and what free time slots are left. Depending on the needs of the team as a resource management and scheduling tool.
Google Calendar Functions
Shared Calendar
Users can create multiple calendars in Google Calendar. Calendars can invite specific users to share. When you inviting to share, you can set different permissions. "Modifiable Events" can create, edit, delete, and reply to event invitations, "View event details" to view the details of all events except private events (such as locations and event descriptions, etc.), "Check availability only" can not show event name or details.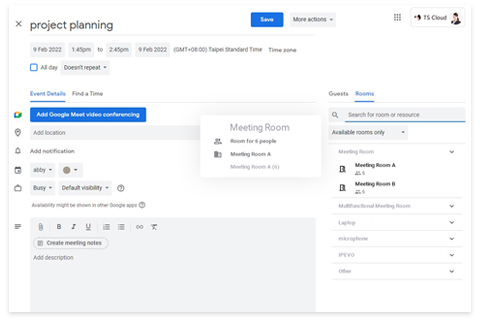 Buildings and Resources
Simply create a "resource" (such as a meeting room or company car) and share it with users via Google Calendar. The other party can add the resource to the calendar event and then reserve it. After the user reserves a resource, the system creates a corresponding event in the resource's calendar. So, when the resource "Conference Room A" is created, other subscribers to the calendar "Conference Room A" can check if the conference room has been reserved for use in a certain period of time as long as someone reserves the conference room in the calendar.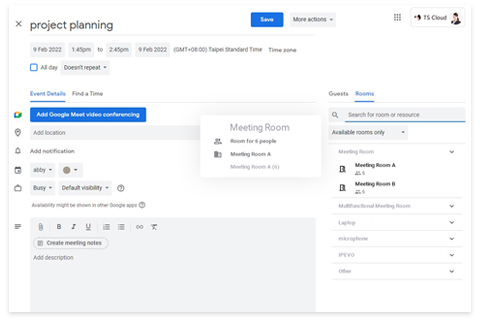 Appointment Slots
You can set up a block of appointments in your calendar that other people can reserve. You can offer other people a block of time in your calendar by giving them your URL so they can book time slots in it. For example, you can reserve 4 hours where you can meet with others in 30-minute slots. Others can then book one of the 30-minute slots within that time that suits them best.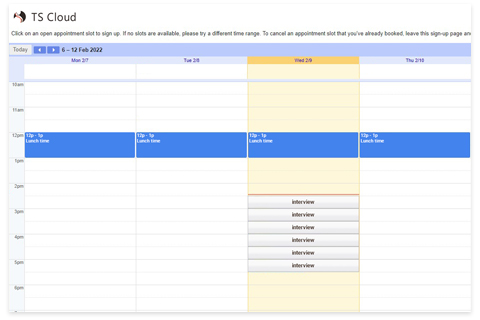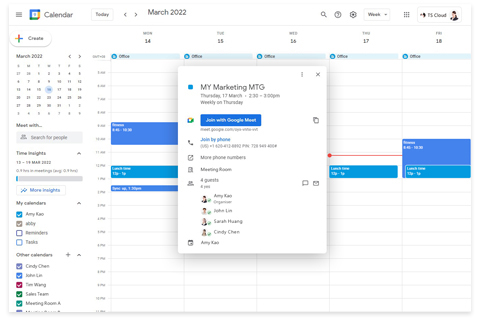 Mutiple Functions
When you create an appointment in Google Calendar, the system automatically inserts the Google Meet link if there is more than one attendee. At that point, you can join the video conference with just one click and attach the appropriate documents for the meeting. The application will ask you if you want to send the invitation to the added participants.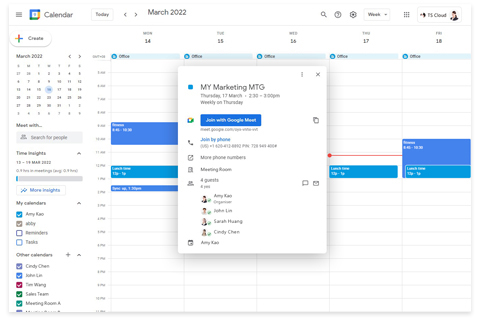 Benefits of Google Calendar
Easily check your appointments and get reminders of upcoming activities
Google Calendar has corresponding user interfaces on mobile phones, tablets, and computers that make it easy to view and edit calendar events. You can easily view and edit your calendar when you are on the go. Any location or device is no longer a limitation. As long as the time is negotiated, you can add the appointment instantly and avoid forgetting it.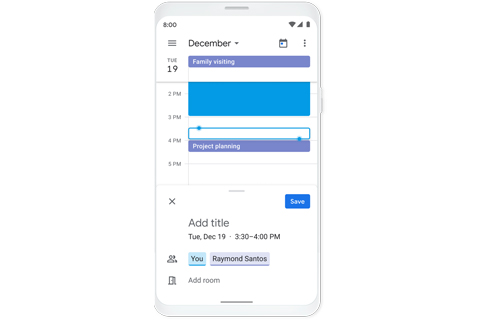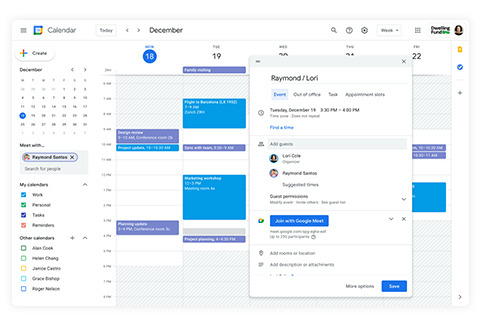 Calendar collaboration makes scheduling meetings easier
Google Calendar allows users to make the calendar public or post it on the web and limit sharing to specific users. This way, you can share your itinerary or let others collaborate on managing resources (e.g., conference rooms, loaners, etc.). By subscribing to other people's calendars, you can easily track each other's itineraries. When you need to schedule appointments for supervisors or department meetings, simply check their calendars and see at a glance how much time is available, saving you the trouble of typing it in.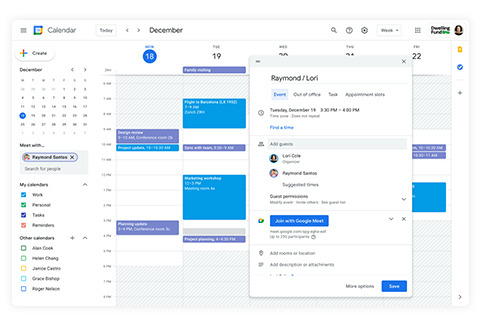 Not only the calendar, but also the daily agenda is synchronized
You can set reminder times for calendar events that are scheduled in Google Calendar. For example, if you set a pop-up notification in the browser five minutes before a meeting, you can avoid situations where you are focused on work and forget to hold a meeting. If you select "Work" in the Calendar Event category, the event will be added to the tasks in Google Tasks at the same time. You can also select "Out of Office" in the Calendar category to decide if you want to automatically decline appointments invited by others. Users can better manage their personal travel plans, and the calendar has various features such as reminders and tasks. They can also use more convenient and efficient personal management tools.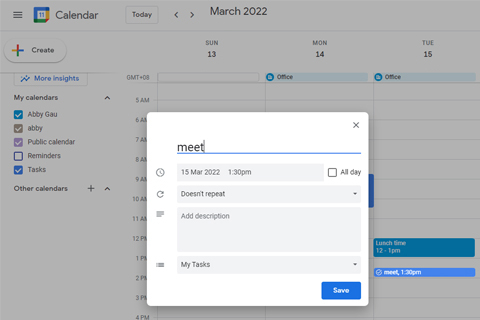 Calendar: Difference between Free Version and Paid Version
| | Free Version | Paid Version |
| --- | --- | --- |
| Shared Calendar | V | V |
| Event Reminder | V | V |
| Daily Agenda | V | V |
| Appointment Slots | X | V |
| Buildings and Resources | X | V |
| Out of Office | X | V |
Does using Calendar need to pay extra?
The Google Calendar application is already available in your Google Workspace account, and no additional payment is required.
Google Workspace Edition With Calendar
Most editions of Google Workspace come with the Google Calendar application, and there are no functional differences due to account editions. For detailed edition and feature comparisons, please refer to Google Workspace Pricing.
Get started on your free trial!
If you are interested in using
Google Workspace
Google Workspace Key Features