Renewal Upgrade! Enjoy up to 20% off and continue to enjoy exclusive features of G Suite Business for up to 3 years!
2020.11.17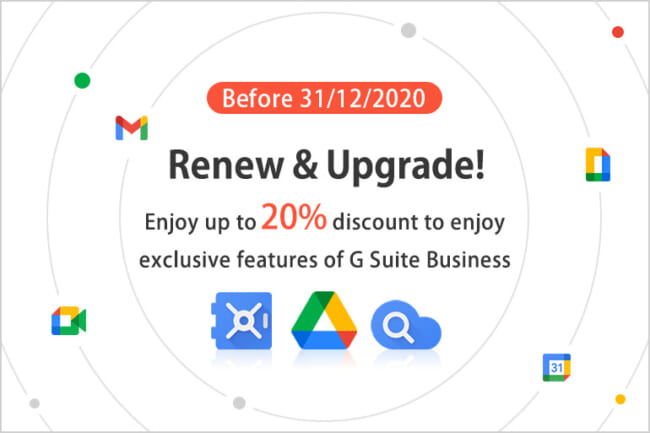 G Suite is now rebranded. Am I restricted to only purchase the new Google Workspace version for the renewal?
Google recently announced that G Suite will be rebranded with new image called as Google Workspace. In addition to adding more advanced features to collaboration and video meeting, it also makes more layers in positioning the editions and pricing.
G Suite vs Google Workspace
Legacy G Suite
Basic
Legacy G Suite
Business
Google Workspace
Business Standard
Price
USD6/User/Month
USD12/User/Month
USD12/User/Month
Storage
30GB
Unlimited
2TB
Google Vault
Not Included
Included
Not Included
Cloud Search
Not Included
Included
Included
More Details: G Suite vs Google Workspace comparison
Upgrade to G Suite Business version before January 15, 2021 to enjoy discounts and lock up the exclusive function of G Suite Business for up to 3 years
If you have a need to use unlimited cloud storage, Google Vault and Cloud Search, TS Cloud has a great solution to offer to you. As long as you contact us by December 31, 2020 and complete the G Suite Upgrade from G Suite Basic to G Suite Business by January 15, 2021, you are eligible to enjoy up to 20% discount, and there is a chance to lock in the contract for three years for G Suite Business Edition!
Promotion Period:
From now to January 15, 2021
Promotion Target:
All companies that are current G Suite subscribers who intended to extend the G Suite Business to enjoy Cloud Storage, Google Vault and also the Cloud Search or those new users who are to subscribe to the G Suite editions.
Application method:
Those who wanted to upgrade to G Suite Business, please contact our specialist by phone or the link below before December 31, 2020. Confirm your upgrade and the contract date by January 15, 2021 to enjoy this special promotion!
More News