Set Up Business Email in 3 Easy Steps:
Google Workspace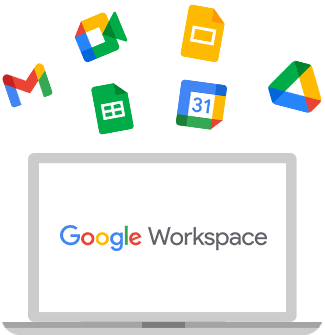 Step 2
Verify Domain Ownership
When you sign up you must verify your domain (e.g. .com) to prove ownership before you can use Google Workspace, including the Gmail service.
Verification method:
Add a TXT or CNAME record in your domain panel (recommended)
Upload the HTML file to your website
Add a meta tag to your website
Step 3
Change MX Records
After domain ownership is verified, the MX records must be changed.
It may take 24 to 48 hours for MX records to show up in the system.
| Host | Time to Live (TTL*) | Type | Priority | Destination |
| --- | --- | --- | --- | --- |
| Blank or @ | 3600 | MX | 1 | ASPMX.L.GOOGLE.COM |
| Blank or @ | 3600 | MX | 5 | ALT1.ASPMX.L.GOOGLE.COM |
| Blank or @ | 3600 | MX | 5 | ALT2.ASPMX.L.GOOGLE.COM |
| Blank or @ | 3600 | MX | 10 | ALT3.ASPMX.L.GOOGLE.COM |
| Blank or @ | 3600 | MX | 10 | ALT4.ASPMX.L.GOOGLE.COM |
Please refer to Set up MX Records for Google Workspace
To prevent others from spoofing your domain address to send email, resulting in your organization's email being classified as spam or blocked altogether, it is recommended that you add an SPF record to the domain panel. Recipients can use the SPF records to determine whether the email was sent from an authorized mail server or not.
Create a TXT record with the following value: v=spf1 include:_spf.google.com ~all
Please refer to About SPF Record more information.
After the set-up is complete, you can start using Google Workspace.
Set-up Is Now Complete
Choose a Payment Method
When the Trial Period Ends
Purchase from Google
Purchase from TS Cloud
Pricing/year
US$72

RM160

Cloud storage
30GB
30GB
Business email
✓
✓
Google Drive,
Google Docs, Sheets, Slides
✓
✓
99.9% uptime guarantee
✓
✓
24/7 Support from Google
✓
✓
Local multi-language support
✓
Payment via online banking
✓
If you decide to continue using Google Workspace when the 14-day trial period ends, you will need to choose a payment method:
Method 1: Purchase From Google By Credit Card
After you enter your credit card details, payment will automatically renew until cancelled. Currently, Google only offers credit card payment, and withholding tax is paid in addition to the user account fees.
Method 2: Purchase From a Google Partner in Malaysia Via Online Banking
Enjoy multilingual support and Google support at the same time, while enjoying the benefits of online banking.
📣 Good News! Special Offer For New Customers in Malaysia
The first 20 new users will benefit from a special offer for the first year.
For more details, please refer to Google Workspace Pricing
Failed to Set Up Gmail Corporate Email?
Get Help From a Specialist
If set-up fails after implementing the above steps, and your company does not have dedicated IT staff, feel free to contact TS Cloud for a professional assistance, avoid losing your time and data cause by set-up errors.